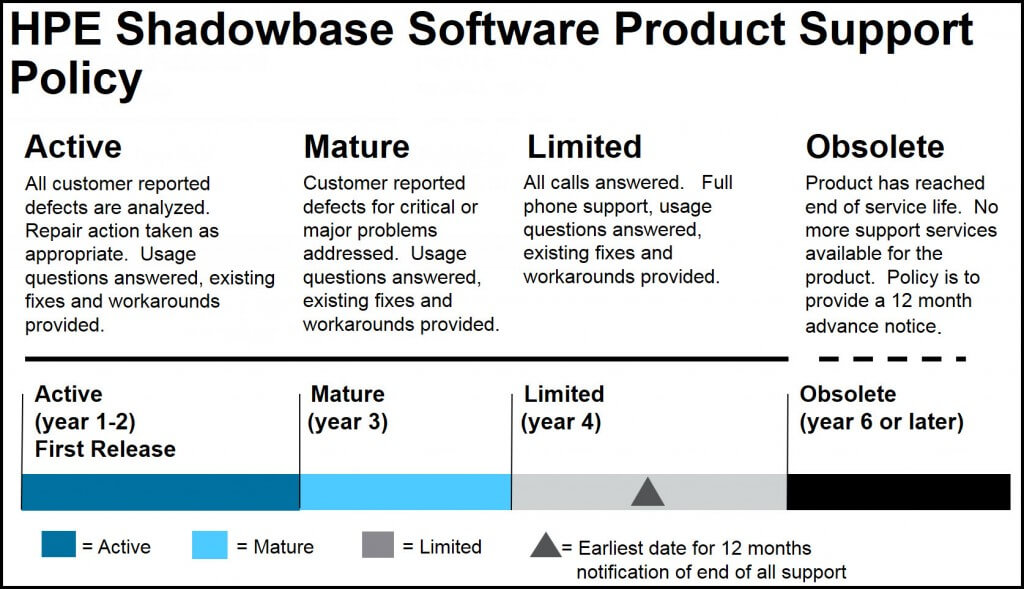 The date that the product was classified or will be reclassified is listed for each SKU/PID's support status (i.e., the current product classification plus notification of any future planned classification changes). A new product version always starts in the Active state, and then moves through the other states as determined by Gravic. Typically, a one-year notice is given when a product will transition to the Obsolete state (i.e., a date at least one year later will be listed). The standard HPE Shadowbase software product support policy is illustrated in the figure above.
Note that the HPML/SPML do not provide any other information regarding a product (e.g., they do not state for which Operating System versions a product is supported.) That information may be found in the product datasheet, on the Gravic website (see the XLSX download: Supported Databases) or by explicitly asking HPE NonStop Product Management.
All HPE Shadowbase software SKU/PIDs are currently listed in the Active support state. To confirm the current status, consult the latest version of the SPML, which can be found in the HPE NonStop eServices Portal (login required).
---
HPE Shadowbase Software Supported for Latest HPE NonStop RVUs:
HPE Shadowbase software is tested (qualified), for HPE supported versions of NonStop RVUs. As HPE deprecates the support status of a particular NonStop RVU, HPE Shadowbase software support status is also accordingly deprecated for that RVU.
When HPE releases a new NonStop RVU (subsequent to the latest release of HPE Shadowbase software), HPE Shadowbase qualification testing for that NonStop RVU may lag its availability. However, generally it is not anticipated that there will be any compatibility problems with new NonStop RVU versions.
The Supported Operating Systems and Databases by Version spreadsheet lists the NonStop RVU each HPE Shadowbase version was originally qualified on (usually the latest NonStop RVU available from HPE at the time). It does not imply that a particular HPE Shadowbase version will not run on earlier NonStop RVU versions, rather that it is not feasible to qualify each HPE Shadowbase version with every prior NonStop RVU.
Generally, it is highly recommended that customers keep their software up-to-date by installing the latest HPE Shadowbase version and the latest NonStop RVU available from HPE on a regular schedule.
Note that this software version support and compatibility information is provided for guidance. Depending on business need, other combinations of software versions may be possible. For details regarding compatibility of any specific HPE Shadowbase version with any specific HPE NonStop RVU version, please contact the HPE Shadowbase Product Manager.
An Important Warning About Shadowbase Version 6.700

WARNING: A new license file is required to install and run HPE Shadowbase version 6.700 (NonStop and Other Servers). This is due to a change in the format of the license file in version 6.700 (and later), current license terms are still valid and remain in force.
For HPE Shadowbase, please contact the HPE License Manager to request a new license file. DO NOT INSTALL HPE Shadowbase software version 6.700 (or newer) until a new license file has been obtained as it will not run with an older license file.