Supported Databases and Platforms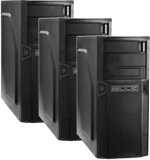 The Supported Databases Spreadsheet (specific versions) and the table below are constantly being updated. Contact us for the availability of additional database and operating system support.
Operating Systems
Source Databases and Environments2
Target Databases and Environments2
HPE NonStop (formerly Tandem) Kernel (Guardian), S, H, J, and L Series
Application Log Files
Extract, Transform, and Load (ETL) Extracts/Formatting
HPE NonStop Open System Services
Flat Files
Generic Interprocess Message Delivery/Notification
HP-UX
HPE NonStop Enscribe
Generic ODBC Targets (Please Contact Us)
IBM AIX
HPE NonStop SQL/MP
HPE NonStop Enscribe
Microsoft Windows
HPE NonStop SQL/MX (Native ANSII Tables)
HPE NonStop SQL/MX (Native ANSII Tables)
Oracle Linux
HPE NonStop SQL/MX (SQL/MP Tables)
HPE NonStop SQL/MP
Oracle Solaris
IBM Db2®
HPE NonStop SQL/MX (SQL/MP Tables)
Oracle Solaris x86
Microsoft SQL Server
IBM Db2®
Red Hat Enterprise Linux1
Oracle Database Enterprise Edition
Microsoft SQL Server
SUSE Linux Enterprise Server (SLES)1
SAP Adaptive Server Enterprise (SAP ASE)
Middleware Feeds/Messaging Feeds
MySQL
Oracle Database Enterprise Edition
PostgreSQL
SAP Adaptive Server Enterprise (SAP Sybase ASE)
SAP HANA
1Additional Linux variants are available.
2Shadowbase "Consumptive" User Exits
Shadowbase software is extensible and supports a "consumptive" model, where the user can create and utilize Shadowbase User Exits to directly interface with a database or other target platform not on this list. In these cases, the customer takes responsibility for testing Shadowbase software and its custom user exits with the target environment, including whenever the respective vendor(s) release new versions.
Database as a Service (DBaaS)
HPE Shadowbase Software offers the option of a DBaaS. With DBaaS, companies can fully recognize the benefits of fault-tolerant computing at the extreme availability levels that HPE NonStop provides. They can also manage their existing database environments (e.g., Linux, Oracle, SQL Server, etc.) through the DBaaS interface, which provides identical commands to their existing environments.