May 15-17, 2023 — Gravic, HPE, and a User Present on HPE Shadowbase Solutions at eBITUG (European British Isles Tandem User Group)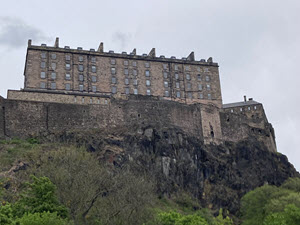 eBITUG was a Resounding Success!
Monday
We are grateful for all the hard work that the eBITUG team put into the pan-European event held in Edinburgh, Scotland in early May. It was well attended by customers, key HPE personnel, and the ISV partners, and we all took a long sigh of relief that the pandemic restrictions are finally over and we can all get on with business.
On Monday, there was no shortage of extracurricular events such as:
a Golf Day Sponsored by TCM,
a Whisky Experience Tour, and
the traditional Beer Bust! Welcome Reception — Sponsored by BITUG and CE Engineering at the Brewdog, conveniently located next to the hotel (Sheraton Grand Hotel and Spa in Edinburgh).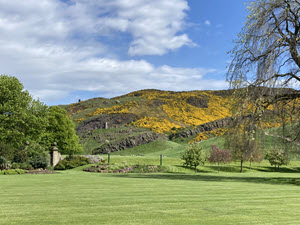 These were fun events that fostered networking and social interaction while experiencing Scotland's rich history.
Tuesday
On Tuesday, the show kicked off with a welcome, and then the General Session — Anything is Possible! An Ordinary Bloke's Journey to the Pinnacle of World Sport with Philippe Evans (an Iron Man (x12) along with Business and Technology Consultant).
Phil shared his challenges in training to become an Iron Man (the race requires swimming 3.9 kilometers, bicycling 180.2 kilometers, and running a marathon, which is 42.2 kilometers).
A key focus for him was preparing for the next race, "Without a race or an event, I drift."
Phil also shared his experience in his last Iron Man (in Hawaii), almost resulting in a catastrophic finish.
We were all moved by his grit and determination, and can learn a lot from one of his key takeaways- always have a goal, a plan, so you know where you are going!
The HPE Plenary — Strategy and Direction, with Teresa Sorg and Neil Davis, started with Teresa talking about HPE Development's future direction and efforts regarding porting HPE NonStop to run as an Operation System in virtualized environments. Afterwards, Neil Davis presented the State of the Union, a business update on HPE NonStop in EMEA (Europe, Middle East, and Africa) and HPE's successes there.
The HPE booth hosted a Demo, Use HPE Shadowbase to Rapidly Extend HPE NonStop Databases and Workloads to the Cloud.  The demo highlighted running NonStop applications on a pair of vNS systems, one in the Azure cloud and one in a private data center (thanks TCM!), with HPE Shadowbase bi-directionally keeping the SQL/MX databases in sync.
We had great attendance and received many questions for each of our talks: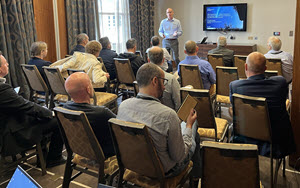 HPE Shadowbase — Digital Resilience, Data Integration, and Data Validation for HPE NonStop Systems, presented by Ken Scudder, discussed HPE Shadowbase Solutions and recent developments.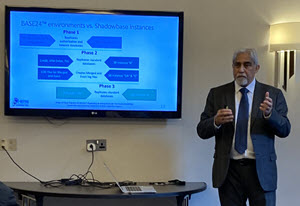 Later, BASE24 ATM Active-Active BC with Shadowbase was presented by Yogesh Teli, a Shadowbase user. Yogesh discussed the bank's challenges with its old solution, and the steps required to switch to HPE Shadowbase software.
Later in the evening, the Taste of Scotland Gala Dinner occurred at The Caves Edinburgh, along with Tom Morley Entertainment, a drumming session with karaoke.
Wednesday
On Wednesday, the day started with the HPE Plenary Session — Establish a Secure and Resilient Operating Environment on HPE NonStop by Prashanth Kamath (HPE), which discussed existing and future methodologies for securing HPE NonStop environments from Malware and Ransomware.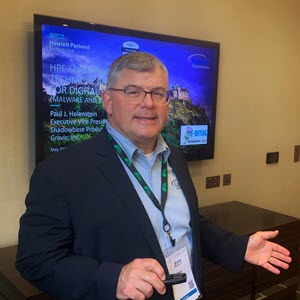 Later in the day, Advanced Data Resiliency and Data Integrity Architectures for Mission Critical Servers with Paul Holenstein consisted of a "deep dive," discussing a plethora of HPE Shadowbase Ransomware and Malware defense architectures.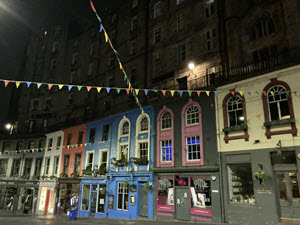 Then, the Plenary Session — HPE Executives Q&A gave the attendees the ability to ask candid questions of the panel. A member of the audience asked, "How will we know if existing HPE NonStop software will be able to run in virtualized NonStop environments?" The panel answered, "If it works today, it will work on virtualized NonStop." This answer illustrates the dedication and hard work the HPE NonStop Engineering team is putting into their efforts toward porting the NonStop to run on the cloud and reinforces the notion that switching over to a virtualized environment should be a seamless experience.
Lastly, the show wrapped up with the BITUG Committee Prize Raffle and Farewell.
Attendance was strong, and the event gave sufficient time for coffee breaks and networking. The customers enjoyed visiting the various booths, and there were valuable face-to-face interactions. We enjoyed spending time with you discussing recent developments in our industry, and also our time in Edinburgh.