December 8-9, 2022 — Gravic Presents on HPE Shadowbase Solutions at the HPE APJ Data Solutions Boot Camp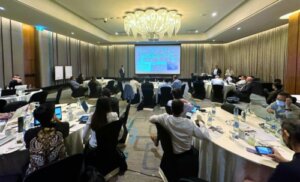 After a three-year hiatus, the HPE team was able to host this event in picturesque Bangkok, Thailand. We were honored to be invited.
Thankfully, neither the heat nor the rain was a significant challenge for the trip. We enjoyed reconnecting with colleagues and partners in the Asia-Pacific Japan region.
The Boot Camp focused on key trends, new technologies, and how the market is developing. Rumor has it there was even karaoke for daring participants, along with candid networking and reconnecting with remote colleagues.
While the event included HPE's Data Solutions portfolio as a whole, interestingly enough HPE NonStop and related topics were a key focus and garnered a significant amount of attention and dedicated time.