Executive Vice President's Letter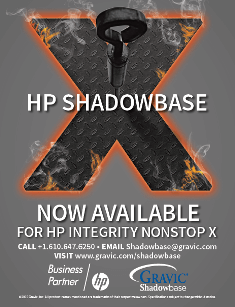 Hello and welcome to our Spring 2015 Shadowbase Products Group Newsletter.
We have a lot of exciting news to share with you today!
We know that all customers, including you, are very excited about HP bringing 100% fault-tolerant solutions to the HP Integrity NonSHP Shadowbase Now Available for HP Integrity NonStop X architecture! You will benefit from continued innovations for your established NonStop environments with greater scalability, performance and security. As a result, you can choose either the Intel® Itanium® architecture or the HP Integrity NonStop X architecture of Intel® Xeon® processors – another major milestone in the HP Project Odyssey roadmap to redefine the future of mission-critical computing.
This announcement confirms HP's continued commitment to the NonStop platform, so you can feel safe in deploying new NonStop applications into the future. This new platform also opens up new markets for NonStop, so we look forward to seeing new solutions come to market in the coming months, including several key enhancements to our own product line. For more information on HP NonStop X, please see the HP Strategic Announcement Brief. For more information regarding upcoming Shadowbase enhancements, please see Shadowbase Development News.
We hope that you are also excited that Gravic's leading-edge Shadowbase software solutions – addressing data replication for business continuity and heterogeneous data integration requirements – are now being licensed, serviced, and supported by HP!
HP Shadowbase solutions complement existing HP products, including HP NonStop RDF, HP NonStop AutoTMF, and HP NonStop AutoSync, extending the range of functionality and choice available to NonStop customers like you. By providing a single point of purchase and support for these advanced replication and data management solutions, you are benefiting from the global reach, industry expertise, and 24×7 support available from HP. HP Shadowbase solutions for the new HP Integrity NonStop X platform is also available now. For more information, please see the HP data sheet, HP Shadowbase Suite for HP NonStop and Other Servers or the HP brief, Make your Business 'Nonstop'.
We are very busy working with the HP account teams for NonStop customers like you to deploy the HP Shadowbase product suite across the globe. We are pleased with the many PoC and trials that are underway, and although some are very challenging from a technology perspective, we look forward to successful completions and welcoming you into the Shadowbase users family. If there is ever anything that we can do to make your IT world run more reliably, accurately, or improve your availability, please let us know and we can work with you to solve any issues you may be having.
The HP Shadowbase product suite extends NonStop availability into geographic fault tolerance for business continuity (active/passive, sizzling-hot-takeover, and fully active/active architectures). The products enable rapid recovery from unplanned outages in times ranging from minutes (high availability, disaster recovery) to immediate (continuous availability, disaster tolerance), with data loss measured in sub-seconds. The software also provides new capabilities for integration at the data and application levels between NonStop and other heterogeneous platforms and databases, as well as data management tools for ensuring data consistency and audit compliance. For more information, please contact us.
We deeply appreciate your support and use of our products. Please let us know what we can do to assist in your efforts to solve your availability and data integration and synchronization business challenges. Feel free to contact us at any time to discuss what is on your mind. We look forward to hearing from you.
With warm regards,
Paul J. Holenstein
---
Please reference our Newsletter Disclaimer.