Executive Vice President's Letter
Hello and welcome to our Spring 2014 Shadowbase Products Group Newsletter.  As I write this in mid-March, there is still snow on the ground with a storm dumping another few inches on our almost record-breaking winter! It seems that Mother Nature still has a few more surprises in store for us, further postponing my son's youth lacrosse season!
In this, our 35th year of business, we reflect on the past and look forward to the future. Swings in the economy, the stock market, inflation, regulation changes, IT analyst fads (remember case tools and "knowledge engineers"?), and even the price of oil were met as opportunities and not problems. How do we measure our success? It is in making progress toward our core purpose of Improving Society Through Innovation. Our ability to improve society is manifest in the numerous industry-leading and household-name companies that rely on Shadowbase software to keep their data centers operational in the event of disasters that routinely put unprotected businesses into bankruptcy. Our core values, including honesty, integrity, and commitment, permeate all of our actions, both internally among employees, and externally with our customers. We are a humble company and temper our successes with the belief that we can do even better for the next 35 years!
We were happy to host Hiromi Koiwai and Keiji Iijima from High Availability Systems (HAS), our Japanese reseller, this past January. It seems they brought snow with them as we had a large storm hit the day they arrived. Being in the business continuity space, we always have plans in place to keep business humming, and this was no different. We soldiered on through the bad weather, and had an exciting and informative time reviewing the business successes we have achieved and the new opportunities before us in their region. We also discussed the latest Shadowbase enhancements and what we can do to assist them in their efforts. We welcome all of our partners, customers (and potential customers!) to visit with us at our offices, have us come visit you, or remotely meet via web sessions to discuss your business opportunities/needs and the latest Shadowbase technologies being developed.
During these past few months we were hard at work on a number of fronts, with many trials and proofs-of-concept underway. We were busy implementing some key new features as reported in our development and support sections of this newsletter. I want to take a moment to highlight an important set of enhancements that we are developing on the transactional synchronous replication front. This technology will revolutionize HP NonStop business continuity, allowing for zero data loss architectures (Shadowbase ZDL) as well as the ability to avoid data collisions when run in an active/active model (Shadowbase ZDL Plus SR). In other words, the RTO and RPO battles have been won! It is no longer a dangerous choice of lesser options, as you can have zero data loss and continuous availability when this feature set is fully implemented! We are well along in our first beta trial for the Shadowbase ZDL product suite, with promising results, and look forward to providing more information in an upcoming announcement.
As I mentioned in our last newsletter, there is a new vibe to the economy as businesses finally recover from the financial meltdown and get back to doing real business again. New projects are starting, stalled ones are recovering, and companies are again spending time, energy, and resources moving their agendas forward. It is a fun and exciting time to be in the data replication and data integration business; we hope that your 2014 and beyond turns into a blessing for you and your colleagues as well.
For additional information about Gravic's products and services, including free white papers on how Shadowbase data replication and data integration solutions can solve your company's business continuity, data integration and synchronization, application integration, application modernization, and real-time business intelligence challenges, please visit: www.shadowbasesoftware.com.
We deeply appreciate your support and use of our products. Please let us know what we can do to assist in your efforts to solve your availability and data integration and synchronization business problems. Feel free to contact us at any time to discuss what is on your mind. We look forward to hearing from you.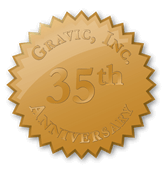 With warm regards,
Paul J. Holenstein
---
Please reference our Newsletter Disclaimer.