Executive Vice President's Letter
Hello and welcome to our Fall 2014 Shadowbase Products Group Newsletter. We have a lot of exciting news to share with you today!
First, HP Shadowbase
Earlier this year, HP and Gravic entered into a non-exclusive strategic partnership with the signing of a Commercial Agreement to offer Gravic Shadowbase sales and support through the HP organization. We are pleased to report that as of September 24, 2014, HP Shadowbase sales and support are now globally available directly from HP.
HP Shadowbase makes Gravic's advanced data replication and data integration software solutions directly available to HP customers, some of the world's largest enterprises. Customers include major banks, financial and brokerage firms, insurance companies, stock exchanges, electric utilities, healthcare, and telecommunications companies. Gravic shares common core values with HP, has a marquee reference customer base, and is committed to continuously enhancing its products. Database replication and integration services are a vital part of the fabric of today's mission-critical enterprise computing world. Customers around the globe urged us to partner with HP as the provider of their most important and trusted computing platforms, and we are pleased to report that HP Shadowbase is the result.
"We're responding to our customers who need advanced replication solutions to address their highest levels of application uptime requirements," said Ajaya Gummadi, Business Continuity Product Manager, HP NonStop Systems. "We now have an innovative solution with HP Shadowbase that will help our customers keep their businesses continuously running."
HP will license, service, and support our leading-edge Shadowbase solutions that address data replication for business continuity and heterogeneous data integration requirements. Our solutions complement existing HP solutions, including HP NonStop RDF, HP NonStop AutoTMF, and HP NonStop AutoSync. By providing a single point of purchase and support for these advanced replication solutions, we and HP are improving the overall customer experience. Our customers will benefit from the global reach, industry expertise, and 24×7 support available from HP. The product will be sold by HP under the name, HP Shadowbase.
HP Shadowbase solutions will extend localized HP NonStop server fault-tolerance to the geographic fault-tolerance required by mission-critical enterprise customers. As HP customers architect next-generation solutions, they need advanced data replication and integration capabilities across heterogeneous platforms, with zero downtime for upgrades and migrations. HP Shadowbase software is the preferred solution for customers who need these advanced capabilities:
Uni-directional active/passive replication functionality, particularly when the schemas differ or tcp/ip is needed
Bi-directional active/active replication functionality
Data integration, transformation, and cleansing capabilities between heterogeneous platforms
Varied platform support beyond the NonStop, including IBM, Linux, Unix, and Windows and a variety of databases including Oracle, Sybase, SQL Server, DB2, and MySQL.
Support for zero downtime migration and upgrades
Data utilities for database loading, audit compliance, data comparison, and repair of data corruption
The increasing reliance of businesses on IT and the rapid emergence of the always-available market are converging to change the thinking about business continuity. Smart businesses look for resiliency, not simply rapid recovery. The potential impact of downtime or data loss is high, measured in terms of reduced productivity, lost revenue, lost customers, brand reputation, or legal liability. Consequently, there is no acceptable level of system downtime or data loss. This partnership will deliver the advanced business continuity software solutions required to meet these needs, as demanded by the world's largest enterprises.Note that if you are an existing Gravic Shadowbase customer, including those that license Shadowbase through a reseller, nothing will change. You will continue to receive your sales and support directly from Gravic or your local reseller.
For more product information, please read the HP data sheet: HP Shadowbase Suite for HP NonStop and Other Servers or the HP brief: Make your business 'nonstop,' or contact your HP NonStop Sales Representative. To see our full press release regarding this announcement, please visit prlog.org/12377056.
Shadowbase Deep-Dive Training
This past August, Gravic presented a week-long Deep-Dive training session on Shadowbase solutions and its technical architecture, including data replication (business continuity), data and application integration (homogeneous and heterogeneous), and other advanced topics with live demos. We hosted several onsite HP personnel as well as many others attending the webinar virtually around the world. The sessions were recorded and are available for subsequent viewing by HP personnel who were unable to attend. We are very pleased with the results, and the discussion points proved invaluable. We look forward to working further with you!
For HP employees who would like to access this training material, it is available through the NonStop University or you may contact the HP Shadowbase Product Manager, Mark Pollans, at: Mark.Pollans@hp.com. If you would like access to any of these training materials and are not an HP employee, then please contact us at +1.610.647.6250 or SBProductManagement@gravic.com. For more information on Shadowbase solutions, please visit: ShadowbaseSoftware.com.
Gravic, Inc. 35th Anniversary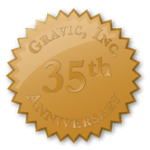 This is our 35th year of business and we reflect on the past and look forward to the future. We are making progress toward our core purpose of Improving Society Through Innovation, and our ability to improve society is manifest in the numerous industry-leading and household-name companies that rely on Shadowbase software. For additional information about our products and services, including free white papers on how our data replication and data integration solutions can solve your company's business continuity, data integration and synchronization, application integration, application modernization, and real-time business intelligence challenges, please visit: ShadowbaseSoftware.com.
We deeply appreciate your support and use of our products. Please let us know what we can do to assist in your efforts to solve your availability and data integration and synchronization business challenges. Feel free to contact us at any time to discuss what is on your mind. We look forward to hearing from you.
With warm regards,
Paul J. Holenstein
---
Please reference our Newsletter Disclaimer.