Gravic Wins HP and Intel 2012 Mission-Critical Innovation Award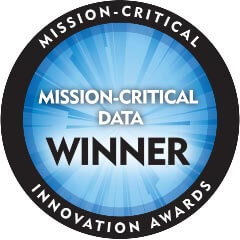 HP and Intel announced Gravic, Inc. as a winner of a 2012 Mission-Critical Innovation Award at the Mission-Critical Awards Celebration event held at Steinberger Frankfurter Hof in Frankfurt, Germany, prior to HP Discover 2012 in December. The award named the Gravic Shadowbase submission on its active/active data replication solution as the best in the New Application category. The awards are a worldwide competition recognizing organizations that utilize HP and Intel technologies to execute cutting-edge mission-critical solutions to address their data-intensive, large-scale applications. Gravic was honored for addressing mission-critical computing challenges while attaining new levels of availability, scalability and reliability for complex workloads.
An independent panel of judges from leading nonprofit and professional organizations, as well as research institutions including CERN openlab, Enderle Group, Pyalla Technologies and Secure64 Software reviewed the submission. Criteria considered by the judges included difficulty of the IT challenge, originality of the solution and results achieved. The judges awarded Gravic's ground-breaking work in new software solutions that enable enterprises to improve the performance, flexibility and cost efficiency associated with mission-critical environments.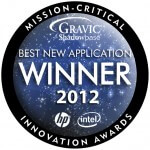 Ric Lewis, Vice President and Interim General Manager of HP's Business Critical Systems Group, and Pauline Nist, Intel's General Manager of Enterprise Software Strategy, presented the 2012 Mission-Critical Innovation awards.
The award-winning case study involved HP Integrity NonStop NS1200 servers running Gravic Shadowbase software to establish a fault-tolerant architecture for a banking customer located on the Pacific Rim Ring of Fire, which experiences frequent earthquakes and volcanic activity. With an active/active data replication solution in place, critical banking applications remain active and reachable even in the event of natural disasters. Gravic's HP and Intel based infrastructure allows the bank to avoid application downtime, both for planned and unplanned outages, as well as dramatically improves failover time.
To see a video regarding Gravic and the award, please click here.