Presentations
HPE Shadowbase technology delivers recognized value to large enterprises worldwide with its cutting-edge data replication software solutions. Learn more about these benefits from viewing our most recent presentations:
Abstract: We provide a brief HPE Shadowbase overview, and describe how HPE Shadowbase works in several use cases for these solution categories: eliminating unplanned downtime with business continuity solutions (active/passive through sizzling-hot-takeover to fully active/active replication architectures); data integration and synchronization (big data and feeding a data warehouse); application integration (building a real-time fraud detection system and implementing a real-time business intelligence system); zero downtime migration (eliminating planned application downtime and minimizing the risk associated with changes); and zero data loss (eliminating data loss during outages).
---
Abstract: We discuss HPE Shadowbase competitive positioning, value proposition, and the overall competitive landscape. We also review new and future HPE Shadowbase product features, including support for DB2 as a source; Enscribe to SQL replication enhancements; further improvements that simplify migrating from RDF or Oracle GoldenGate (OGG) to HPE Shadowbase; and additional BASE24 Classic as well as BASE24-eps feature support.
---
Abstract: We dramatically improved the support of HPE Shadowbase for DB2 as a source for data replication environments. HPE Shadowbase can now replicate from DB2 on any IBM platform/environment to any of the supported HPE Shadowbase targets, including HPE NonStop, Oracle, SQL Server, DB2, MySQL, Sybase, and more. Don't be left behind and learn how Shadowbase for DB2 can benefit you!
---
Audience: All
Abstract: When it comes to enabling application availability and preventing loss from system or data center failures, some organization may be operating with outdated ideas of what really needs to be "always on." What is the impact to your business if your customer-facing application became unavailable? What about your internal collaboration systems, what would be the impact to productivity and meeting your customer commitments? Ninety-five percent of small to large enterprises have experienced at least one unplanned data center outage in the past 24 months. There are ways to mitigate these risks and minimize or eliminate application outages. Attend this exciting talk to get some practical concepts and ideas on how to survive data center disasters.
---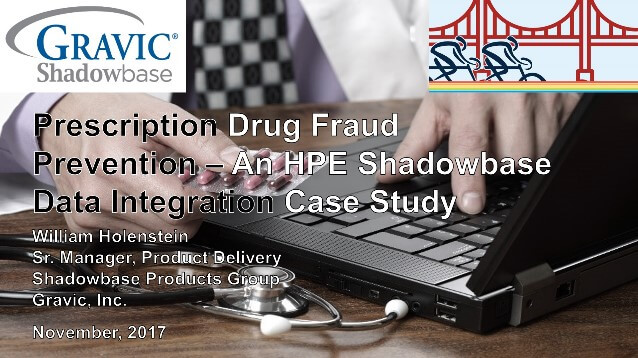 Audience: All
Abstract: Prescription drug claims fraud is big business, costing billions of dollars. To help a country's government healthcare agency stem the losses, a centralized claims fraud adjudication and prevention decision support system was implemented. The agency chose HPE Shadowbase data replication software to provide real-time replication from an HPE NonStop claims processing system to feed the new decision support environment. Shadowbase SOLV enabled the new system to load with no application downtime. This case study provides an excellent example of how new services can be rapidly implemented by using HPE Shadowbase Data and Application Integration facilities.